Driver Profile - BROCK ZEARFOSS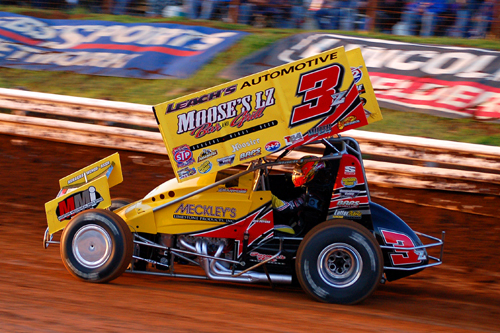 Brock in action at Williams Grove Speedway
Name: Brock Zearfoss
Birthdate: 9-14-90
Hometown: Jonestown, Pa
Marital Status: Single
Family: Mom- Pam Dad- Kevin Occupation:Refrigeration
How did you choose your car number? Was always an Earnhardt fan and my last name
Chassis: Schnee
Engine Builder: HP Engines
Crew: Dad, Rob, Justin, Kyle, Andrew
Sponsors:Mooses LZ, Leaches Automotive, Central Builders Supply, Meckleys Limestone.
Favorite Track: Port Royal Speedway
Divisions competed in:go-karts, 600 Micro Sprints, 358 Sprints, 360 Sprints, 410 Sprints
Years Racing: 17
Wins: Over 300
Championships: 4
Regular Tracks/Series: Williams Grove, Port Royal
Hobbies: Hockey
Favorite TV show: The Blacklist
Favorite Music: Anything
Favorite Food: Steak
Favorite Beverage: Pepsi
Favorite Restaurant: Moose LZ
Favorite Driver: Greg Hodnett and Doug Esh
Website: www.brockzearfoss.com
When and how did you get started in racing?
Went to the races with my cousin one day and been hooked ever since
Who had the biggest impact on your racing career and why?
Everyone who has helped me to be the driver I am anyone who has given me advice
What would you be doing if you weren't racing?
I never really thought about that
What is your favorite aspect of racing?
Every single aspect is my favorite.
What is your greatest accomplishment/best memory?
Winning the national open at Linda's Speedway 2 years in a row
What is the worst thing that has happened to you in racing, or your worst season?
Breaking my leg in a wreck
In your own words, describe your 2014 season:
up and down, heartbreak and pleasure
Where do you see Sprint Car racing in five years?
Hopefully prospering and being bigger than it's ever been
What are your plans for the 2015 season?
Race as much as I can and succeed in the 410 ranks
What is your ultimate goal?
To race for a living, either nationally or locally
Anything else you would like to add?
Thank you to everyone who helps me Sponsors, Crew, Family, Friends without them i wouldn't be where I am today.
---
www.SprintCarNews.com
---