Driver Profile - JACK SODEMAN JR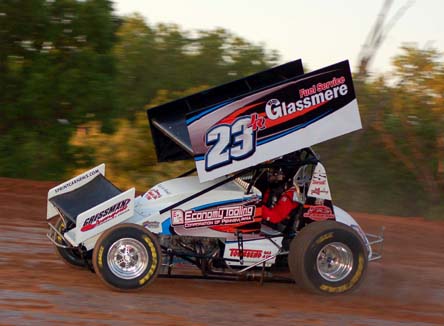 Jack in action at Lernerville Speedway
Name: JACK SODEMAN JR
Birthdate: 2/24/1977
Hometown: North Jackson Ohio
Marital Status: Owned
Family: Mom (cheryl) Dad (jack sr.) Wife Catherine my baby girl Samantha. sister Lisa brother Paul and nieces Taylor and Kayla
Occupation: Automotive Rep.
How did you choose your car number? Well my car number came from my father running 23 so many years i just added a Jr. to it. any of the other cars i have run were on it when i got in it
Chassis: Maxim & GF1
Engine Builder: Scott Gressman (Gressman powersports)
Crew: Jack Sr/ Cheryl/ Cat/ Mark Kubic/ Gary Park/ Taylor Smith/ Samantha Sodeman
Sponsors: Economy Tooling/ PRS Transit/ Rudzik Excavating/ Glassmere Fuel Service/ Townsend gas and oil/ Gressman Powersports/ Butler built seats/ simpson racing/ pro shocks/ Franklin Rearend
Favorite Track: Any that run Sprint cars
Divisions competed in: Kart, 360 Sprint cars, 410 Sprint car, and a very few times Dirt Modified
Years Racing: About 20
Wins: I am not sure on a number but I can say as many as I can
Championships: In the sprint cars i have 3/ 2000 Sportsmans speedway/ Sharon Speedway 2009 and 2010
Regular Tracks/Series: You can find us running anywere any time really but for the 2013 season it will be ASCoC a majority of the time
Hobbies: Racing, Going to the gym
Favorite TV show: Comedies and oddly enough the history channel (i hated history when i was a kid)
Favorite Music: Mostly Rock but i jump everywhere
Favorite Band: There is alot
Favorite Food: Pizza, Steak, sushi, mexican
Favorite Beverage: Red Bull
Favorite Restaurant: The Big Texan
Favorite Driver: My Father Jack Sodeman Sr.
When and how did you get started in racing?
It was a family lifestyle that got passed into my blood
Who had the biggest impact on your racing career and why?
My Dad and Mom without all the sacrifices they made to help me get started i would never have been who i am or where i'm at. What would you be doing if you weren't racing?
I would still work in or be around racing in some form
What is your favorite aspect of racing?
The racing family you will never find a closer, crazier, good group of people anywhere .
What is your greatest accomplishment/best memory?
The first win is one you never forget but there are many greats for me. The first time I won and had my baby girl in victory lane pictures the stories you pick up from races you have gone to over the years. I think i could write a book.
What is the worst thing that has happened to you in racing, or your worst season?
To anyone that knows me it will be no shock for me to say July 4 2011 a bad crash I was hurt in and had a long road to get back and you feel bad that you put your family thru all of that.
In your own words, describe your 2012 season:
Exciting
What are your plans for the 2013 season?
Running the ASCoC with a newly combined team and running as many races as we can
Where do you see Sprint Car racing five years from now?
For the first time I don't know. it has got to be so hard just to keep going that you see many teams have left. if you look at my racing what used to be 3 separate teams and cars on the track is now one just to try to keep up. I only hope it keeps going strong. .
What is your ultimate goal?
To race be competitive and have fun for years to come .
Anything else you would like to add?
Just to thank everyone that has helped me over the years from my family the racing family friends just a huge list i could never pay back or thank enough... and see you at the races!!!
---
www.SprintCarNews.com
---