Driver Profile - SEAN MICHAEL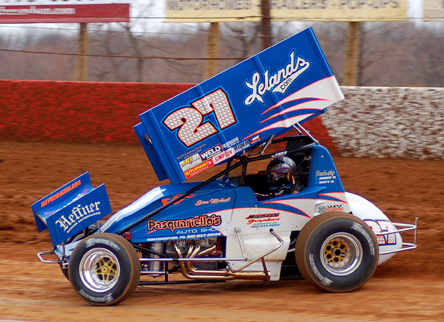 Sean in action at Lincoln Speedway
Name: Sean Michael
Birthdate: July 11, 1966
Hometown: Allentown, PA
Marital Status: Single
Family: Daughter Skye (2009 Miss Thunder on the Hill); Parents All & Peggy Michael; Brothers Curt and Chris
Occupation: Professional Fire Fighter
How did you choose your car number? Car owner Mike Heffner chose the number
Chassis: JEI
Engine Builder: Rider Racing Engines
Crew: Matt Anderson, Jim Pasquariello
Sponsors: Lelands.com
Favorite Track: Fonda, New York
Divisions competed in: Micro Sprints (87-90); Mini Sprints (91-93): Limited Sprints (94); URC Sprints (95-97), 410 Sprints (98), URC Sprints (99-2000); 410 Sprints (2000-09).
Website: www.HeffnerRacing.com
Who had the biggest impact on your racing career and why?
No doubt, my parents. They are the ones that took us racing every Friday and Sunday when we were kids and really put themselves out for us.
What would you be doing if you weren't racing?
I wouldnít know what else to do with myself on the weekend. Itís all Iíve done since I was five years old.
What is your favorite aspect of racing?
It's a family and team sport. You just don't get in the car and it's going to be fast. You need the whole team to work together to make the car fast, which takes a lot of hard work. I really enjoy working on the cars with the crew in the shop and then going off to the races together and seeing how we did.
What is your greatest accomplishment/best memory?
My win at Port Royalís first Dream Race Extreme in 2007. I was trailing Greg Hodnett for most of the 50-lap race, then inched to the lead during the 48th lap, holding steady for the $30,000 payday.
What is the worst thing that has happened to you in racing, or your worst season?
A crash in 1991 at Linda Speedway in a Micro where I suffered brain contusions.
In your own words, describe your 2008 season:
Disappointing. Jim Nace and I just couldn't make it click and find the speed that we had in 2007.
What are your plans for the 2009 season?
Iím excited about this season. Mike [Heffner, car owner] has put together a great, experienced team and an absolutely top shelf car. He is putting his trust and faith into the team and willing to spend the money to give us 100% the best equipment that you can buy. I believe this could be the best equipment Iíve ever had.
Where do you see Sprint Car racing five years from now?
I don't see a lot of changes taking place in 410 racing. I was asked this same question a few times over the years and also about saving money. Back when I went 410 in 1998, Joe Harz spent a lot of money and now Mike is spending a lot 11 years later.
What is your ultimate goal?
I learned in racing to go year by year. In 2009 my main goal is to win races!! I'm hoping to be fast at the Grove in the beginning of the year and have some good runs, so we can be a regular on Friday nights.
---
www.SprintCarNews.com
---