DRIVER PROFILE - PAIGE POLYAK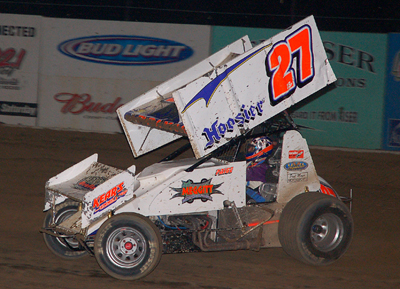 Paige in action at Fremont Speedway
Name: Paige Polyak
Birthdate: 6/4/94
Hometown: Tiffin, OH
Marital Status: Single
Family: Tim(dad), Cathy(mom), Kelsey(twin sister), Logan (brother)
Occupation: Freshmen at Old Fort High School
How did you choose your car number? Josh Meggitt picked the number
Chassis: Maxim
Engine Builder: Level Performance
Crew: Tim(dad), Randy, Jim
Sponsors: Circle H Tire, Paul Moyer Motorsports, Autolite, Hoosier Tire
Favorite Track: Logansport, IN (Micro-Sprint) Attica (305 Sprint)
Divisions competed in: Go-Kart, 600 Micro-Sprint, 305 Sprint
Years Racing: 8
Wins: 35 in the Go-Kart, 20 in the Micro-Sprint,
Championships: 3 Go-Kart, 1 in the Micro-Sprint
Regular Tracks/Series: Fremont/Attica
Hobbies: Racing, Softball, Basketball, Snowmobiling
Favorite TV show: Friday Night Lights
Favorite Music: Everything except Rap
Favorite Band: Nickelback
Favorite Food: Chicken
Favorite Beverage: Sunkist
Favorite Restaurant: Olive Garden
Favorite Driver: Chad Kemenah and Jeff Gordon
When and how did you get started in racing?
When I was three years old I went every weekend with my dad to Fremont, Attica and Eldora.
Who had the biggest impact on your racing career and why?
My dad because he was always there to support me through good times and the bad.
What would you be doing if you weren't racing?
Not sure
What is your favorite aspect of racing?
Going fast
What is your greatest accomplishment/best memory?
Winning the final Indiana Micro Sprint Series race.
What is the worst thing that has happened to you in racing, or your worst
season? The last night at Fremont Speedway at the non-wing show when I flipped and destroyed my sprint car.
In your own words, describe your 2008 season:
Not very good because this is the only season I havent one a race.
What are your plans for the 2009 season?
I am currently looking for a sponsors and a ride.
Where do you see Sprint Car racing five years from now?
Hard to say with the way the economy is.
What is your ultimate goal?
To run full time with the World of Outlaws.
Anything else you would like to add?
I need sponsors for the upcoming season. I am also currently looking for a ride.
---
www.SprintCarNews.com
---