Driver Profile - RICKY PETERSON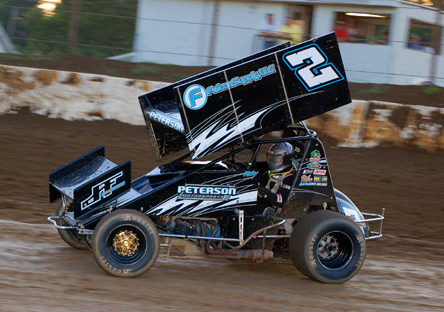 Ricky in action at Fremont Speedway
Name: Ricky Peterson
Birthdate: April 9th 1997
Hometown: Rawson Ohio
Marital Status:Single
Family: Betty(mom)Rick(dad) Morgan(sister)
How did you chose your car number? My number is a long story between me and my best friend #2
Chassis: Maxim
Engine Builder: Denis Level
Crew: Jason, Dad, Kyle Mills, Myself
Sponsors: Falcon Supply, Level Performace, Real Capz
Favorite Track: Attica Raceway Park
Divisions competed in:numerous gokart divisions and 305 sprintcars
Years Racing: 11
Wins: 35
Championships: 1
Regular Tracks/Series: Attica Raceway Park & Freont Speedway
Hobbies: Racing
Favorite TV show: Tosh.O
Favorite Music: Whatever is fine
Favorite Food: Pizza
Favorite Beverage: Gatorade
Favorite Restaurant:Jac&Dos Pizza
Favorite Driver: Greg Wilson, Joey Saldana, a few others
When and how did you get started in racing?
It's a family thing
Who had the biggest impact on your racing career and why?
My Dad, he's the main man of this team and he helps me and moves me forward as much as he can.
What would you be doing if you weren't racing?
At the races looking for sometihng to race.
What is your favorite aspect of racing?
The history and the respect of the drivers .
What is your greatest accomplishment/best memory?
2013 Rookie of the Year Award at Attica Raceway Park.
What is the worst thing that has happened to you in racing, or your worst season?
In gokarts I had an amazing seasons 6 wins always fast to the next year always fast but had no wins to show for.
In your own words, describe your 2013 season:
Breath Taking
What are your plans for the 2014 season?
Attica Raceway Park weekly and F.A.S.T..
What is your ultimate goal?
To become a well known racer who people talk about and remember as " that kid that could drive a racecar" Anything else you would like to add?
I am open to any kind/size of sponsership no matter how big or small! If you are at all interested in sponsering me please let me know at petersonricky@Yahoo.com Thanks
---
www.SprintCarNews.com
---