Driver Profile - ANDRE LAYFIELD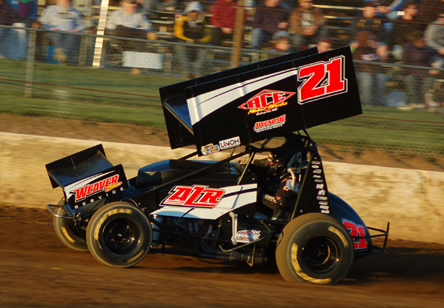 Andre at Mercer Raceway Park
Name: Andre Layfield
Birthdate: 10-28-1986
Hometown: Grafton, WV
Marital Status: Not Married
Family: Dad: Greg Layfield Mom: Candy Layfield
Occupation: Lockheed Martin Aeronautics
How did you choose your car number? I have been a few numbers in sprint car racing. My first number was 59 because I bought my car off Brooke Tatnell, so we just left it all decaled the same as I was learning to drive a sprint car. My second number 21 came from right before we were suppose start racing for the year and I had no decals yet and was pretty much broke from trying to get my equipment ready for the year and I ended up winning a bunch of money playing black jack at the Meadow Lands casino so I thought it was fitting that I number my car 21 since that money paid for all my decals for the year and I have just left it that so far.
Chassis: GF1 and Maxim
Engine Builder:Charlie Fisher
Crew: Randy Weaver, Ben Ayers
Sponsors: ACE Metal Works, Pine Tree Towing and Recovery
Favorite Track: Ohio Valley Speedway, Parkersburg, WV
Divisions competed in: Karts, ARCA Trucks, Open Wheel Modified, Super Latemodel, 410 Sprint Cars
Years Racing:18 years
Wins: I am really not sure how many wins I have in other divisions, but I have 10 410 sprint car wins as of 2010.
Championships: We have won some kart championships but have never raced any series or track long enough to win a championship yet.
Regular Tracks/Series: Skyline, Wayne County, OVSCA wing series, BOSS non wing series.
Hobbies: Racing is really about it
Favorite TV show: Donít really have one
Favorite Music: Rock/Country
Favorite Band: Donít really have one
Favorite Food: Pizza
Favorite Beverage: Sweet Tea
Favorite Restaurant: Ruby Tuesday
Favorite Driver: Always enjoyed watching Dale Blaney when I grew up
When and how did you get started in racing?
I live about ten minutes from a kart track. I saw a kart in my town and wanted to try it, so my dad got me and kart and thatís where it all began in 1995.
Who had the biggest impact on your racing career and why?
I would say my Dad if he didnít get me a kart and buy me my first dirt car, there would have been no way I would have been able to start racing at an early age.
What would you be doing if you weren't racing?
Honestly I am not sure what normal people do. My life has been wrapped up so much in racing and thatís all I do and think of, that I am not sure how to be normal. I would probably have money and a nice car to drive around though.
What is your favorite aspect of racing?
The hunt for speed and figuring how to make your car go better than the next guy.
What is your greatest accomplishment/best memory?
Probably my first sprint car win with a wing and my first sprint car win non wing. When I started racing sprints I knew I didnít have the money some people have, but I just wanted to do it to say I got to do what I always dreamed of doing. But to actually win that first one my first year racing sprints and even winning a race without the wing this year. Just to win in both forms of sprint car racing that I love, meant a lot.
What is the worst thing that has happened to you in racing, or your worst season?
I would have to say I could write a book after this season of how to lose a race, between my own driving error costing me a race, to flat tires, parts breaking to getting crashed by other drivers. This was a rough and expensive year, I just hope we can rebound and get running like we were at the end of 2011.
In your own words, describe your 2012 season:
Very tough year compared to my first two seasons in sprints. We were fast all year just had so many wins get away from me from broken parts and getting used up at times. We definitely learned to make our car fast with a wing and non wing, we just got to have some better luck.
What are your plans for the 2013 season?
Win more races and run more non wing races. Hopefully run some world of outlaw races and all star shows.
Where do you see Sprint Car racing five years from now?
I see it being about the same, I think for what the economy is it hard right now for it to grow much. I hope it gets stronger though!
What is your ultimate goal?
I would love to run the USAC tour or follow All Stars or World Of Outlaws tours
---
www.SprintCarNews.com
---