Driver Profile - CALEB HELMS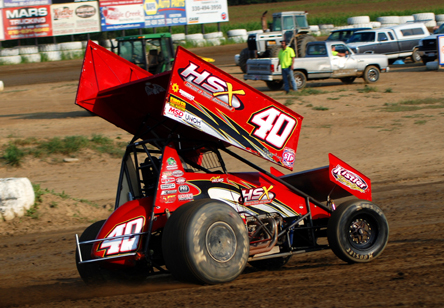 Caleb on the gas at Wayne County Speedway
Name: Caleb Helms
Birthdate: December 27, 1991
Hometown: Findlay, Ohio
Marital Status: Marrying Shelby Ann Wilson on March 1, 2014
Family: 2nd oldest of 12 kids… all 1 family. 8 sisters and 3 brothers
Occupation: Helms and Sons Excavating – civil engineer
How did you choose your car number? My dad's number was 40
Chassis: J&J
Engine Builder: Kistler Engines
Crew: Brian Kemenah, Larry Helms (grandpa), Brock Gressman, Luke Sponsors: Shelves.com, Helms and Sons Excavating, Helms Paving and Site Contractors
Favorite Track: KC Raceway… when it was KC Raceway. Limaland and Eldora are close behind.
Divisions competed in: winged 410 and 360, go-carts
Years Racing: 2014 will be my sixth season in a sprint car (11th year counting go-carts)
Wins: 2 wins in a sprint car, 11 in a go-cart
Championships: 1 go-cart track championship
Regular Tracks/Series: Full All Star schedule in 2014, some Fremont and Attica
Hobbies: Church and hanging out with family
Favorite TV show: Joseph Prince
Favorite Music: KLOVE radio
Favorite Band: Phil Wickham
Favorite Food: Mexican and breakfast foods. Meat and Jalepenos
Favorite Beverage: Quality H20 – people always know me to have a 1 gallon water jug in my hand
Favorite Restaurant: Oler's Bar and Grill in Findlay (Waffle House when Oler's is closed!)
Favorite Driver: Shane Helms
Website: Caleb Helms Racing on Facebook
When and how did you get started in racing?
My grandpa and dad both raced sprint cars. They put me into a go cart when I was ten, and a year later my dad got back into a sprint car to have something going when I was old enough. I got into a 410 when I was 16 and raced ten times in 2008.
Who had the biggest impact on your racing career and why?
My dad has had the biggest impact on my racing career because he has given me every opportunity to race that I've had, and he has been my greatest supporter and mentor.
What would you be doing if you weren't racing?
I'd probably be focusing more on working with my dad's company and maybe starting another side business.
What is your favorite aspect of racing?
I love that racing is a team sport and a family sport, and who doesn't love the thrill of trying to ride a beast on the ragged edge. My favorite aspect of racing, however, is that when you are on the track with 23 other cars and drivers, you are really just racing yourself and the track. However well you can do that in the midst of the battle is how well you can race.
What is your greatest accomplishment/best memory?
I can't choose between two memories. 1st Memory: My first win at KC Raceway in 2010 was a last lap pass. About two races earlier in the season I almost quit altogether. 2nd memory: I was leading the 360 race of the Knight Before the Kings Royal in 2012 at Eldora and the motor blew up on the last lap… it was the only race my dad didn't have anything to correct me on and we just hugged each other after I got out of the car. P.S. It wasn't our motor
What is the worst thing that has happened to you in racing, or your worst season?
As far as expectations go, 2013 was probably my worst season. The things I learned from it though about being a racecar driver and having confidence are only going to make me stronger. 2010 was probably the worst as far as wrecking cars goes.
In your own words, describe your 2013 season:
2013 was my first full year on the road with the All Stars and my fifth season in a sprint car. I put a lot of pressure on myself last season which only helped to frustrate my performance. What I am most thankful for about the previous season is that it has taught me how I need to focus on nothing else but me and the track.
What are your plans for the 2014 season?
In 2014 I will still be racing for my dad and we will be running the entire All Star Circuit of Champions schedule, several WoO races including all the Ohio events, the Knoxville Nationals, possibly some Pennsylvania events and the World Finals. We will also be at as many FAST events as possible. Brian Kemenah will be my crew chief for the upcoming season.
Where do you see Sprint Car racing five years from now?
I see sprint car racing growing as a whole five years from now. I think the leaders in sprint car racing are learning to do a better job of promoting the sport and its teams. I don't think the growth is a result of anything to do with our government.
What is your ultimate goal?
My ultimate goal in racing is to be a World of Outlaw champion. My ultimate goal in life… is just to know and grow in the love of Jesus!
Anything else you would like to add?
Psalm 34:8 and 1 John 3:1
---
www.SprintCarNews.com
---