Driver Profile - COLE DUNCAN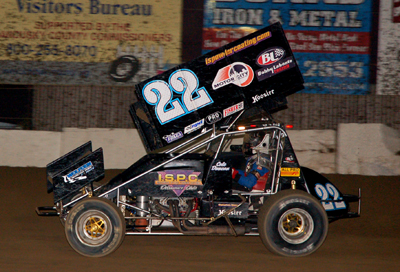 Cole in action at Fremont Speedway
Name: Cole Duncan
Birthdate: March 22, 1992
Hometown: Lockbourne, OH
Marital Status: Single
Family: Mom (Jan), Dad (Rod), and my dog (Luke)
Occupation: Junior at Grove City High School
How did you choose your car number? 22 was my dadís number when he raced and my birthday fell on the 22nd
Chassis: J&J
Engine Builder: George Fisher
Crew: Dad, Pops, and Grandpa
Sponsors: Bobby Labonte Racing, Motor City Auto Transport, Wolfden Carbon Fiber Products, and Industrial Special Powder Coatings
Favorite Track: K-C Raceway in Chillicothe, Ohio
Divisions competed in: I started in Quarter Midgets and basically made the jump to a 410 winged sprint car
Years Racing: 11
Wins: 3 wins in a sprint car, numerous wins in a quarter midget
Championships: 5
Regular Tracks/Series: none
Hobbies: I play basketball for my school and I enjoy spending most of my spare time with friends
Favorite TV show: Two and a Half Men
Favorite Music: Country
Favorite Band: any country band
Favorite Food: Tacos or pizza
Favorite Beverage: Gatorade
Favorite Restaurant: Roosterís
Favorite Driver: My dad and Joey Saldana

When and how did you get started in racing?
Ever since I was born I have been going to the races to watch my dad, so when I turned four my parents bought me a Quarter Midget. Ever since the first time I sat in my own race car I never looked back.
Who had the biggest impact on your racing career and why?
My dad has defiantly had the biggest impact on my racing career. Heís the one that got me started and he kept us going even when we would struggle. I could not ask for a better teacher when I made the switch from Quarter Midgets to Sprint Cars. My dad is no doubt the biggest influence on me especially when it comes to racing.
What would you be doing if you weren't racing?
I honestly have no idea what I would be doing. It seems like I get that question everyday and I can never answer it. I canít picture my life without racing.
What is your favorite aspect of racing?
My favorite aspect of racing would have to be the adrenaline rush I get when I strap into my car and words canít describe what itís like to fly around that thin cushion up on top of the track when your racing for a win. I also enjoy towing to the track with my family because my family is my biggest support.
What is your greatest accomplishment/best memory?
Right now in my career my greatest accomplishment would have to be holding off Danny Smith to pick up my first ever sprint car feature win. A close second would be winning the Nationals in quarter midgets at the Wall, NJ track in 2006.
What is the worst thing that has happened to you in racing, or your worst season?
I have been very fortunate through out my whole career and have never been seriously hurt. I think the only year that I didn't won a race was my first year in the sprint car but I would still not consider that year a bad season by any means.
In your own words, describe your 2008 season:
To me, the 2008 season was a successful season for our race team. I would have never guessed we would win three races; I was just hoping to win at least one. We also had a bunch of top fiveís and top tens against some very good completion. On another positive note to end on in the í08 season, we were fortunate enough to not tear very much equipment up.
What are your plans for the 2009 season?
In the 2009 season we are not going to devote ourselves to one certain serious or track. We are going to pick and choose our best options and just try to have some fun. Iím also hoping to venture over to Pennsylvania more than we did last year. Iím very excited to get started on the 2009 season.
Where do you see Sprint Car racing five years from now?
Itís hard to say where sprint car racing will be in five years. Obviously there will continue to be sprint cars around and I think they will excel here in the next couple years but teams will change and tracks will change. It will be interesting to see where we end up.
What is your ultimate goal?
My ultimate goal ever since I was a little kid was to compete with the World of Outlaws. In my opinion sprint cars contain some of the most talented racers in the world and even to be mentioned in a field of that caliber would be a dream come true.
Anything else you would like to add?
I just want to thank my family, they back me in everything I do and without them I wouldnít be in a race car. I also, canít end this without giving a huge thank you to my sponsors. You donít realize how much they do until you add up the numbers at the end of the year.
---
www.SprintCarNews.com
---