Driver Profile - PAT CANNON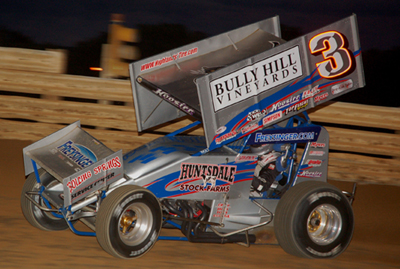 Pat on the gas at Selinsgrove Speedway
Name: Pat Cannon
Birthdate: 1/26/1979
Hometown: Etters, PA
Marital Status: Married to Stacey
Family: Dad- Bill, Mom- Linda, Brother- Steve
Occupation: QC Manager
How did you choose your car number? Car owner's number
Chassis: Maxim
Engine Builder: Don Ott Racing Engines and Shultz Racing Engines
Crew: Matt, Tony, George
Sponsors: Highlands Tire Service, Bully Hill Vineyards, Freysinger Dealerships, Huntsdale Farms, Boiling Spring Service Center, Baish's Auto Body, Drop of Ink Tattoo
Favorite Track: Selinsgrove Speedway
Divisions competed in: 1/4 Midget (1991-1994), Super Sportsman (1995-2005), 358 Sprints (2005-Current), 410 (2008-Current)
Years Racing: 20 years
Wins: 15 Super Sportsman, 2 410 wins, 53 358 Sprint wins, 1 360 Sprint win
Championships: 2005 Silver Silver Super Sportsman, 2005 Super Sportsman Tour, 2007, 2008, 2010 Williams Grove 358 Sprints, and 2008 & 2010 Selinsgrove 358 Sprints
Regular Tracks/Series: Williams Grove and Selinsgrove 358 Sprints
Hobbies: Travel
Favorite TV show: Married with Children
Favorite Music: Hard Rock
Favorite Band: Mudvayne, Hellyeah, Godsmack
Favorite Food: Pizza
Favorite Beverage: Coke Zero & Budweiser Select
Favorite Restaurant: Resevoir Tavern
Favorite Driver: Billy Pauch
When and how did you get started in racing?
Dad raced at Flemington and East Windsor Speedway in 70's and 80's. He came home one day and asked if my brother and I wanted to drive a 1/4 Midget.
Who had the biggest impact on your racing career and why?
My father because if it wasn't for him I would have never had the opportunities to do what I am able to do in my life.
What would you be doing if you weren't racing?
Don't know, it has been such a large part of my life for a long period of time. I would have like to think I would of found some way to have made a lot more money.
What is your favorite aspect of racing?
Seeing the excitement on the crew's faces as you pull into victory lane.
What is your greatest accomplishment/best memory?
2 races stand out. First was beating Kenny Adams at Williams Grove in the 360 National Open in 2006. Second would be winning the opening segment of the Nace Memorial at Selinsgrove in 2010 and coming in a close 2nd in the last segment.
What is the worst thing that has happened to you in racing, or your worst season?
Passing Daryn Pittman at Selinsgrove for the 360 National Open win only to come up light at the scales in 2010. Only time I have ever been light in my career.
In your own words, describe your 2010 season:
Great season, 19 wins and 2 championships. But also a year I felt like we let several big opportunities get away from us. Definitely a year that I will never forget.
What are your plans for the 2011 season?
Similiar schedule to last season, 358/360/410 mix with most of our concentration on 358s. We are going to run the 360 at East Bay again this year.
Where do you see Sprint Car racing five years from now?
At this point, I am a little unsure where things are headed. In this day, it is cost prohibited to enter the sport. I hope a few individuals haven't made to many rules to drive out to many good people in this sport because it is getting harder and harder to fill their positions. Any rules changes cost owners money, hopefully these changes are fewer and far between going forward (short of the Goodyear tire rule). I am not really sure where the sport will be, but it will be different.
What is your ultimate goal?
To be able to race at a competitive level for a number of years.
---
www.SprintCarNews.com
---