Driver Profile - RON BLAIR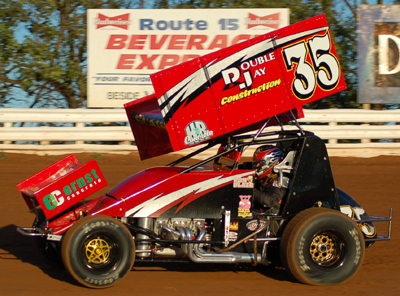 Ron at Williams Grove Speedway this season

Name: Ron Blair
Birthdate: Oct. 7, 1977
Hometown: Troy, OH
Marital Status: Single
Family: Dad - Randy, Mother - Carol, Sister - Nikki, Brother - Todd
Occupation: Construction Management
How did you choose your car number? Was my football number in High School
Chassis: Eagle
Engine Builder: Gaerte, Campbell
Crew: Mom, Dad, Gene Davis (Crew Chief), Donny Coburn
Sponsors: Double Jay Construction, Ernst Concrete, H & R Concrete
Favorite Track: K-C Raceway in Chillicothe, OH
Divisions competed in: 360 and 410 winged sprints
Years Racing: 3
Wins: 1 - Lowe's Motor Speedway (11/4/06)
Championships: 0
Regular Tracks/Series : NRA 360's, K-C Raceway, Limaland, Eldora, All-Stars, ASCS SOD
Hobbies: Anything with racing, water sports, snow skiing, boating, spending time with friends
Favorite TV show: CSI Miami; 2 1/2 Men; House, M.D.
Favorite Music: I like many types
Favorite Band: Dave Matthews Band
Favorite Food: Steak
Favorite Beverage: Diet Coke
Favorite Restaurant: J. Alexanders
Favorite Driver: Jeff Gordon


When and how did you get started in racing?

-My dad owned and sponsored cars as I was growing up, so I was around it quite a bit. Then, in 2003, I had the opportunity to drive a car one day on a track we rented out, and needless to day, I was hooked.

Who had the biggest impact on your racing career and why?

-My Dad. His belief in this team and his determination to win and strive to be the best has been a big part in getting us to where we are today.

What would you be doing if you weren't racing?

-Probably working full time, married, and may even have children by now.

What is your favorite aspect of racing?

-The competition. I also like the challenges of learning new tracks and having to constantly adapt to the changing conditions of the race track each and every night.

What is your greatest accomplishment/best memory?

-My first Feature Win, which just happened on 11/4/06 and the Dirt Track at Lowe's Motor Speedway.
-Limaland 360 Rookie of the Year
-Mid American Sprint Series (M.A.S.S.) Rookie of the Year - 410

What is the worst thing that has happened to you in racing, or your worst season?

-My streak of bad luck and crashes during the 2005 season. It was very frustrating, to say the least.

In your own words, describe your 2006 season:

-All in all, I think we had a very successful season. We made a huge improvement and made huge strides forward. We have become competitive most anywhere we go. We ended up with 20 top tens, 7 top 5's, and a win, which are all big steps in the right direction.
-Making both WoO shows in Volusia this past Winter was a big achievement for me. -Qualifying 12th of 65 cars at the Knoxville 360 Nationals and 14th of 78 cars at the Canadian Sprint Car Nationals were both pretty neat as well.

What are your plans for the 2007 season?

-Not real sure yet. Plan on racing as much as possible and hopefully travelling more. I would like to run for Rookie of the Year with the All-Stars if the funding and schudule permits. We may also run more 360 races if that looks like a better direction for us to go.

Where do you see Sprint Car racing five years from now?

-I see it as best form of racing there is. I do, however, see 360 racing becoming more popular.

What is your ultimate goal?

-My ultimate goal would be to race full time, and hopefully one day run with and be competitive in the WoO circuit.

Anything else you would like to add?

-Just would like to give a special thanks to my Mom and Dad for all their continued help and support they have given me over the past few years. I also would like to thank all our sponsors, crew, and everyone who has helped me over the years. I couldn't do it without each and every one of them.

Ron collecting his hardware at Lowes
---
SprintCarNews.com
---