Driver Profile - BOB BENNETT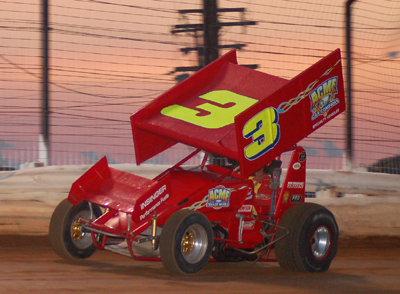 Bob on the gas at Williams Grove Speedway
Name: Bob Bennett
Birthdate: 11/5/69
Hometown: Lewisberry, Pa
Marital Status: Single
Family: son Tyler, daughter Cassie
Occupation: Office manager
How did you choose your car number? It was my favorite number as a kid
Chassis: JEI
Engine Builder: Don Ott
Crew: John Mickle, Jason Haller, Paul Ruhl, Bill Brennan
Sponsors: Acme Trailer Works, Acme Car Co., Dunlap Mellor
Favorite Track: Selinsgrove Speedway
Divisions competed in: 410 sprints
Years Racing: 18
Wins: 4
Championships: 0
Regular Tracks/Series: Three years with the World of Outlaw Gumout Series, 1 All-Stars, 2 years World of Outlaws Pennzoil series, currently racing at Williams Grove & Port Royal Speedways.
Favorite TV show: 24
Favorite Music: Classic rock & 80's music
Favorite Band: Journey for older music, Nickelback current
Favorite Food: Roast beef
Favorite Beverage: Mr. Pibb
Favorite Restaurant: Texas Roadhouse
Favorite Driver: Mario Andretti
When and how did you get started in racing?
I grew up around it because my dad raced.
Who had the biggest impact on your racing career and why?
My dad. He helped me get started and has helped me all along the way.
What would you be doing if you weren't racing?
No idea
What is your favorite aspect of racing?
Meeting all the people, and the thrill of driving.
What is your greatest accomplishment/best memory?
My win this year at Williams Grove Speedway.
What is the worst thing that has happened to you in racing, or your worst season?
The crash that put me in the hospital in April of 2006
In your own words, describe your 2007 season:
The win at Williams Grove made our whole season. We got a little closer to being consistent.
What are your plans for the 2008 season?
At this point Williams Grove on most Fridays and Port Royal Speedway on Saturdays. Some traveling and the Knoxville Nationals.
Where do you see Sprint Car racing five years from now?
Not sure, there needs to be some changes to keep some of the costs down.
What is your ultimate goal?
Just to stay in the sport and have fun.
---
SprintCarNews.com
---