DRIVER PROFILE - MIKE BAUER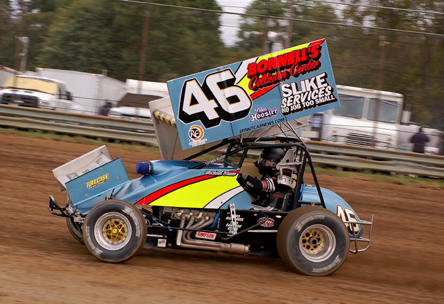 Mike in action at Mercer Raceway Park
Name: Michael Bauer
Birthdate: February 22, 1993
Hometown: Clarion, Pennsylvania
Marital Status: Single
Family:Jeff Bauer (Dad), Ellen Bauer (Mom), and Matt Bauer (Brother)
Occupation: College Student Majoring in Mathematics and Physics at Clarion University of Pennsylvania / Researcher / Tutor
How did you choose your car number? The #46 comes from the number my brother ran in karting. Before racing the #35 car with my uncle, I always ran the #45 in karting since it was my uncleís number.
Chassis: Treviscraft
Engine Builder: Swankee
Crew:Cameron Slike and Shannon Berrier
Sponsors: Slike Services, Bonnellís Collision Center, Precise Racing Products, and Hoosier Tire Mid-Atlantic.
Favorite Track: Mercer Raceway Park
Divisions competed in: Karts, 305 sprint cars
Years Racing: 12 years, 9 years in karting, 3 years in Sprints
Wins: 12 in Sprints
Championships: 2013 Mercer Raceway Park Champion (305 Sprints), 2013 Sportsmanís Speedway Champion (305 Sprints), 2013 #1 Cochran Cavalcade Points Champion (305 Sprints)
Regular Tracks/Series: Mercer Raceway Park, Sportsmanís Speedway
Hobbies: Riding dirt-bikes and four wheelers, snowboarding, bowling, racquetball, and boating
Favorite TV show: Counting Cars
Favorite Music: Country
Favorite Band:Florida Georgia Line
Favorite Food: Buffalo Chicken Dip
Favorite Beverage: Iced Tea
Favorite Restaurant: Red Lobster
Favorite Driver: Kasey Kahne
Website: Facebook.com/BauerRacing
When and how did you get started in racing?
I started racing motocross in the summer of 1997 when I was just four years old. My father took my brother to a practice session to give him a place to ride and then I wanted to give it a try. I have been hooked on racing ever since. When I was eight years old, my dad and uncle thought it would be a good idea to start racing karts.
Who had the biggest impact on your racing career and why?
I would have to say my dad. He allowed me to start racing at a young age and continued to invest in my racing career throughout karting and now sprint cars. My uncle also had a significant influence on my racing career as he gave me my start in sprint car racing and taught me many things that enabled me to be successful early on in my sprint car racing career.
What would you be doing if you weren't racing?
Boating
What is your favorite aspect of racing?
I enjoy being part of the dirt track racing community as well as the learning aspect of the sport.
What is your greatest accomplishment/best memory?
Winning from 8th at Sportsmanís Speedway
What is the worst thing that has happened to you in racing, or your worst season?
We have had a very fortunate racing career and havenít had a winless season. I would have to say the most recent misfortune occurred during the only race we didnít finish last season when the torsion bar stop broke. Although we only had minimal damage, it definitely tightened up the points race and increased the pressure on our last night of points racing
In your own words, describe your 2013 season:
Successful. We won 8 races and 3 Championships. We had 26 top 5 finishes over 31 races. We finished 30 of our 31 races.
What are your plans for the 2014 season?
Continue racing in the 305 division and looking for an opportunity to race a 410 sprint car.
Where do you see Sprint Car racing five years from now?
I see limited sprint car racing becoming more popular as it offers more racers an opportunity to get on the track. It is a more economical division and can be just as exciting.
What is your ultimate goal?
Win a race with the World of Outlaws
Anything else you would like to add?
I would like to thank my sponsors, Slike Services, Bonnellís Collision Center, Precise Racing Products and Hoosier Tire Mid-Atlantic. Also, if anyone is looking for a driver for their 410 sprint car, I would greatly appreciate the opportunity.
---
www.SprintCarNews.com
---