Driver Profile - BILL DIETRICH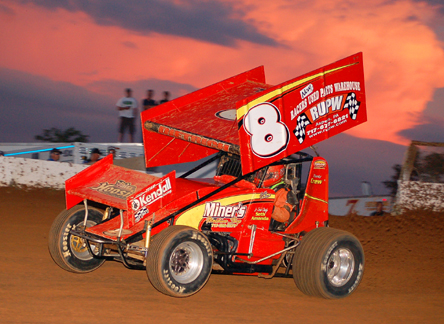 Bill in action at Path Valley Speedway
Name: Bill Dietrich
Birthdate: July 7 1981
Hometown: Biglerville, Pa
Marital Status: Single
Family: son Seth daughter Amanda
Occupation: Mechanic
How did you choose your car number? was my dad's #
Chassis: JEI
Engine Builder: I build the engines
Crew: Cory, Zeal, Dave, Wyatt
Sponsors: Need more sponsors
Favorite Track: Lincoln Speedway
Divisions competed in: 358 & 410 sprints
Years Racing: 17
Wins: 50 plus wins don't have exact count
Championships: 3 championships 1@Lincoln 2@Trailway,
Regular Tracks/Series: Lincoln Speedway
Hobbies: Hunting and family time
Favorite TV show: Tom & Jerry
Favorite Music: rock/hiphop
Favorite Band: Metallica/Eminem
Favorite Food: Sucatash
Favorite Beverage: Water
Favorite Restaurant: Texas Roadhouse
Favorite Driver: Dale Sr./ John Force
When and how did you get started in racing?
My dad got me started.
Who had the biggest impact on your racing career and why?
My dad because he taught me what I know and I always looked up to him as a driver
What would you be doing if you weren't racing?
Coaching my kids sports teams
What is your favorite aspect of racing?
The people you meet.
What is your greatest accomplishment/best memory?
The biggest race I won at Path Valley Speedway.
What is the worst thing that has happened to you in racing, or your worst season?
Broken right arm at Selinsgrove Speedway and the people that we have lost
In your own words, describe your 2013 season:
2013 was a bad year due to the mechanical issues that we had, no ones fault just one of those things
What are your plans for the 2014 season?
2014 plans are similar to are past two seasons with tentative plans to race a little more and would really like to do Ohio Speedweek if we can get everything to come together.
Where do you see Sprint Car racing five years from now?
Well I think it will be strong. We are in a transition time [in my opinion] in central pa with only a handful of "high dollar teams". It's making the 410 class grow in ways it hasn't so I think car counts will countinue to grow and make for good shows for the fans.
What is your ultimate goal?
Goal is to be competitive every night, looking forward to seeing everyone at the races in 2014!
---
SprintCarNews.com
---